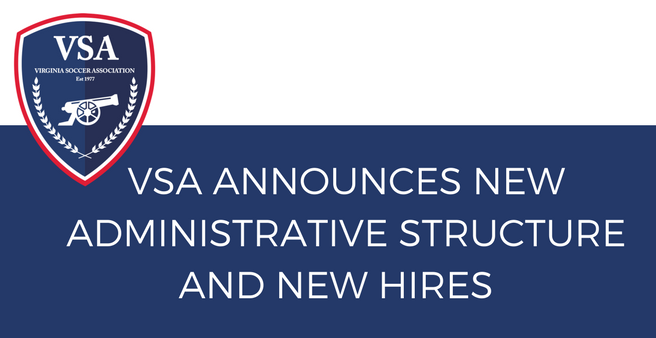 VSA ANNOUNCE NEW ADMINISTRATIVE STRUCTURE AND NEW HIRES
NEW RECREATION DIRECTOR, DIRECTOR OF OPERATIONS, AND TRAVEL ADMINISTRATOR HIRED 
VSA is excited to announce a new Administrative structure to help enhance and support all current members at the club. Since the announcement of Matt Lacey as Executive Director in early November the club has been working behind the scenes to assess and analyze areas of strengths and weaknesses to continue to move the club forward. The new structure will increase the level of daily support the club provides to its membership in all programs with a key focus on Recreational Programs. 
As part of the new structure VSA has hired Steve Hoover as the club's full time Recreational Director and he will oversee all aspects of the program from on the field coaching education to all administration within the program. Under this new role he will also be leading the clubs Adult league program to create improved accessibility to evenings for our Adult players. Steve Hoover joins VSA from local club FCSC after a successful time as their Recreation Director.
 "I am extremely excited to join VSA and continue my growth with a well-established club. I am looking forward becoming the face of VSA's recreation program. I am excited to support our parents in their understanding of the goals of VSA moving forward, and being their point of contact with recreation and adult league questions. I look forward to implementing a structure that allows our players and coach as many opportunities to learn the game of soccer in a fun environment that causes them to love the game the way I do" commented Steve Hoover.
As part of the club's re-structuring, Dustin Butcher will be promoted to the role of Director of Operations along with Kathleen White transitioning to the clubs Travel Administrator. Both of these roles help create clear lines of communication along with new processes and focus to improve the membership experience.
"First and foremost we are extremely excited to add Steve Hoover to the club as our new Recreation Director. Steve has a great personality but more importantly experience in Recreation leadership. His sole focus will be on improving recreation communication, administration, player/coach development, and being a face at Long Park during practice and game days. In regards to Dustin and Kathleen we have two people who I trust to help move our new structure forward and both are deserving of these new roles"  Matt Lacey, Executive Director
The promotion of Dustin Butcher will allow for the club to have more oversight in key areas to help manage the day to day operations of the club from the VSA offices. Dustin has served the club in a number of roles over the past 5 years including GK Director, Tournament Director, Age Group Director, And Recreation Director.
"I am extremely fortunate and excited to begin my new role as Director of Operations here at VSA.  Over the last few years, I have been given several opportunities for personal growth here at the club and this is yet another step in that direction.  I want to thank Matt Lacey and VSA for showing consistent support for me and my family and I look forward to continuing to grow within this organization" added Dustin Butcher, Director of Operations.
About VSA: The Virginia Soccer Association (VSA) is a Not-for-Profit charitable soccer education organization serving the youth of Western Prince William County since 1977. Our players are boys and girls from the ages of 3 to 18 who live in Haymarket, Gainesville, Catharpin, Bristow, and neighboring communities in Virginia.  The VSA organizes a recreation/instructional league during the Spring and Fall seasons and sponsors travel/select teams to travel leagues in Northern Virginia.  The VSA is an affiliate of the Virginia Youth Soccer Association (VYSA), the United States Youth Soccer Association (USYSA), the United States Soccer Federation (USSF), and the Fédération Internationale de Football Association (FIFA).